Battles and Campaigns fought by Britain during the Second World War
This list of battles is additional to the Top Ten British Battles of World War Two found elsewhere on this website.  (For individual battles in that Top Ten – please see below).
Here are an additional 21 battles fought by the British.  They are listed in date order and not any form of order of importance!
As can be seen by the map below, the majority of battles fought within Europe were in the Mediterranean area which  is indicative of the strategy employed to defeat Nazi Germany.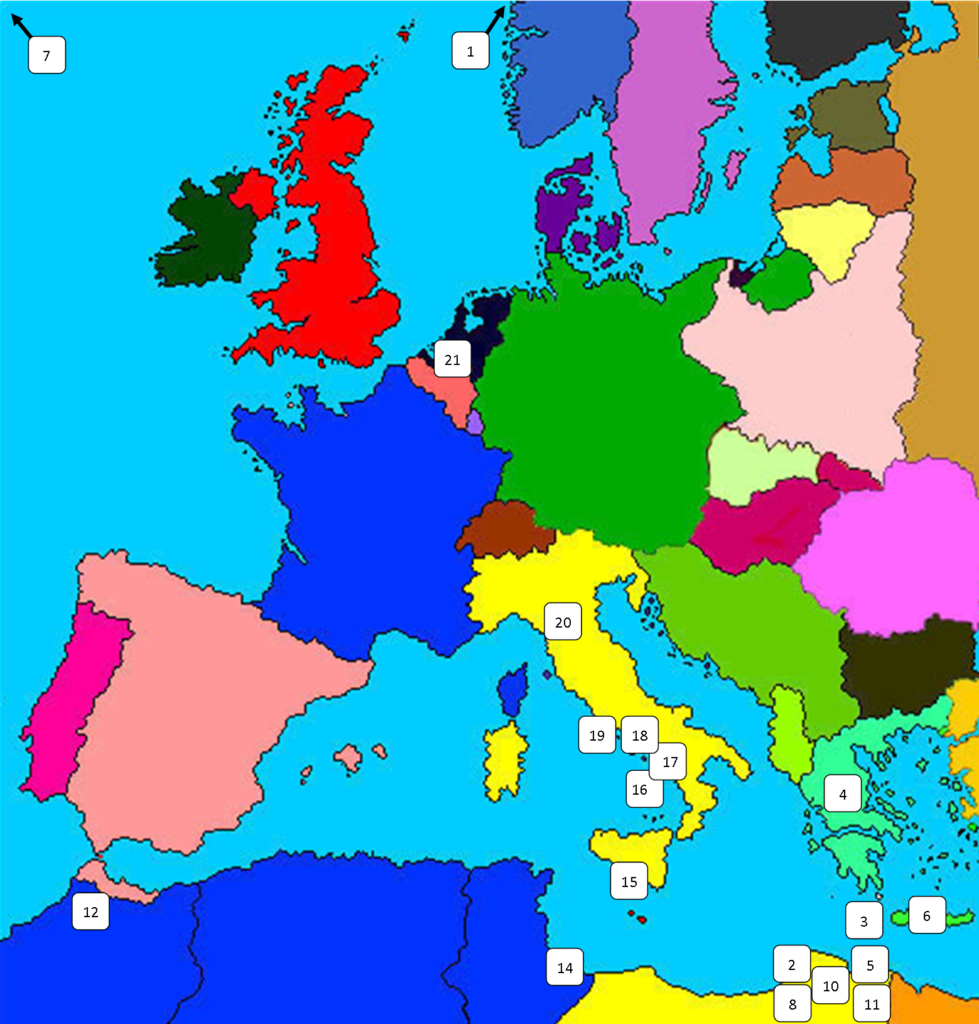 Narvik (9 April – 8 June 1940)

Operation Compass

 (8 Dec 1940 – 9 Feb 1941) 
Battle of Cape Matapan  (27 – 29 March 1941)
Battle of Greece (6 – 30 April 1941)

Seige of Tobruk

 (10 April – 27 Nov 1941)
Battle of Crete (20 May – 1 June 1941)
Battle of the Denmark Strait (24 May 1941)
Operation Crusader  (18 Nov – 30 Dec 1941)

Burma Campaign

 (Jan 1942 – August 1945)
Battle of Gazala (26 May – 21 June 1942)
Fall of Tobruk (17 – 21 June 1942)
Operation Torch (8 – 10 Nov 1942)

First Chindits Operation

 (8 Feb – 30 Apr 1943)
Battle of Mareth (16 – 27 Mar 1943)
Invasion of Sicily (9 Jul – 17 Aug 1943)
Salerno Landing (3 Sep – 16 Sep 1943)
Battle of Monte Camino (5 Nov – 5 Dec 1943)
The Gustav Line inc Battle of Monte Cassino

(17 Jan – 19 May 1944)

Battle of Anzio (22 Jan – 5 June 1944)
The Gothic line  (25 Aug – 17 Dec 1944)
Operation Market Garden (17 Sep – 25 Sep 1944)